Songs, whether they come from the Mozart from Madras ARR or the Maestro IR, make an impact on people only if they are backed up by superb picturisation - especially in these times where the TV channels rule the viewership charts. There have been some songs which have really helped a good song become super duper hits.
I want to pen down some of my favorite songs, which I would love to watch any day.
The songs are discussed in no particular order.
Pachai Nirame
A real ever'green' song if I can say so. Superb locations, amazing camera angles, extraordinary music (this maybe one amongst Hariharan's best 5) and simple yet effective choreography makes this one my favorite song. The fact that Alaipayuthey is one of my most favorite movies might have also played a part in making this song special. Also, the chemistry between Madhavan and Shalini really makes this song good. There are lots of songs which are those cloyingly sweet/saccharine kinds (where the hero and heroine act like two 'cho chweet' kinds which make me puke on the song - a very recent song, with super duper music from ARR, vocals from Shreya Ghoshal was an utter letdown in the video with totally no chemistry between the hero and his love interest - and they had pathetic locations too!) which put me off, but here the song reflects the situation in the movie - Madhavan tries to flirt with Shalini and gets a 'bulb', but as is the case with lovelorn guys, manages to see a positive that Shalini has smiled at him - the song starts here. It was a very good ploy to have the male only vocals as it makes it slightly believable (after all, its the usual dream song) - making us see the song as a manifestation of Madhavan's mood and happiness. The lyrics are very catchy too - with the standard of tamizh film lyrics going so low as to have water packet and the like in them, this song has much better lyrics - in fact, this is one song which I can sing in public without having to muzhungufy (mute out) some words in the middle.
The cinematography and choreography is really the biggest factors in making this song click - locations which are picture perfect, awesome natural lighting effects - Sriram, take a bow!! The way the colors have been integrated is also innovative - the milaga being dried, the yellow sheet in the rain - wow! And Farah Khan, shows her class by not having some cheap and vulgar actions/dance steps, manages to show the chemistry between the actors in a splendid manner.
Some Stills from the song: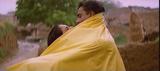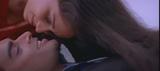 Download Link:
http://rapidshare.com/files/60581497/Alaipayuthey.Pachai.Nirame.avi

Powered by ScribeFire.